Introduction
E-Invoicing Basics
European Union legislation provides a clear definition of an electronic invoice:
'Electronic invoice' means an invoice that has been issued, transmitted and received in a structured electronic format which allows for its automatic and electronic processing'.
E-invoicing delivers the complete removal of paper from invoicing and its replacement with digital processes. It comes in many forms across the global economy and includes models based on direct connections between contracting parties, or more commonly on the use of networks and service platforms, such as those offered by EESPA Members.
Its ease of implementation can be demonstrated with reference to many successful private and public sector experiences, and to the extensive range of existing market solutions. 'Big bang' IT projects are not required and transition costs are modest.
In some countries e-invoicing is motivated by fiscal considerations and the need to improve tax collections. Elsewhere the motive is more about creating efficiency and value through digitization, or a combination.
E-invoicing is growing rapidly in all B2B, B2G and B2C spaces.
Typical Process for Invoicing
A supplier of goods and services must create, or have created on its behalf, an electronic invoice containing the right information and in a format that can be automatically processed in the system of its buyer.
Such structured e-invoices may be created in a supplier's own system and delivered directly to the buyer's system.
Alternatively, a supplier may use a service provider to deliver or create a structured e-invoice from invoice data provided to it, for example, in the following ways:

In an electronic data file produced by the supplier and transmitted to its service provider.
Through a portal or web-site operated on behalf of the buyer.
From data supplied in a machine-generated PDF which has been forwarded to the service provider.

Although this is a less reliable method of automation, the structured invoice could be created from data contained in a paper document, or in a humanly generated PDF, and extracted through scanning and OCR (optical character recognition).
Once the structured e-invoice is created it is then delivered to the buyer by electronic means. In all cases, it is usual that the electronic invoice is validated for completeness and accuracy before being remitted to the buyer's system. This avoids multiple errors and manual intervention. In turn, a buyer and/or its service provider will perform a number of checks and business approvals before the invoice is processed and paid.
Service providers will present the costs and benefits of these various modalities including their technical implications, their ease of use, and consistency of data integrity. Such solutions are diverse and offered in a highly competitive landscape.
Barriers to e-Invoicing
Barriers have been removed, such as:
Policy Direction: There is clear policy support at supra-national (e.g. EU) and in most counties.
Business case: can be easily demonstrated with reference to quantifiable value
Legality: it is perfectly legal and supported by legislation in the countries which dominate the trading universe
Interoperability: internet technology and the power of networks have made inter-operation between parties extremely easy.
Security and confidentiality: these very important issues are dealt with through commonly available technology and human processes
Competence and resources: are available on an affordable and accessible basis.
Benefits
There is a strong business case for e-invoicing adoption.
Many users have been able to reduce invoice processing costs by 50-75%, with a return on investment of over 60% p.a. Independent research suggests that the cost of processing a paper invoice (to the buyer) is around EUR17 per invoice. Depending on the degree of automation the net benefits can be 4-12 euro per invoice.
The manual processes involved in handling paper invoices are:
Labour-intensive
Prone to errors, delays and long payment cycles.
Liable to potential fraud
Likely to create difficulties in achieving accurate audits for all parties.
By moving to a process that handles invoices electronically, buyers and suppliers achieve material cost and efficiency gains by:
Removing delivery and print and mailing costs
Removing the need to archive paper.
Even more significant cost savings are obtained through:
Improved workflow
Reduced errors and fraud
Accelerated process improvements
Economies of scale
Potentially faster or more predictable payments
Administrative efficiencies
Greater transparency built into the whole procure-to-pay cycle.
More efficient reconciliation, financial reporting and audit
Release of resources for more productive work
More satisfied supply chains
Environmental benefits
It is recognised that the potential for cost savings is dependent on the degree of automation targeted and delivered. It is important to take the opportunity to maximise automation.
Prepare your business case
When preparing a business case and evaluating the benefits of e-invoicing it is important to gather some facts and figures on the current activities undertaken and use these as a basis for further analysis. Key questions are:
Question 1: How many invoices does your organisation currently process to assess the scale of the opportunity?
Question 2: How many people/person hours are employed within your accounts payable/receivable function within your organisation to assess the opportunity to save resources?
Question 3: What is the cost of processing a paper invoice in your organisation to set the starting point?
Question 4: What are your costs and requirements for archiving of invoices given long archiving requirements in tax law?
Question 5: What are your opportunities for 'outsourcing' to external solutions or 'shared services to establish your options to make it happen?
Question 6: What is the make-up of your customers and suppliers? How many are SMEs to understand the landscape you face?
Question 7: What is your current on-time payment performance? How many (%) invoices are paid on time to assess the scope for improvement?
Implementation
Most e-invoicing projects today start on the buyer side. What follows takes this perspective. A supplier-centric approach is also covered below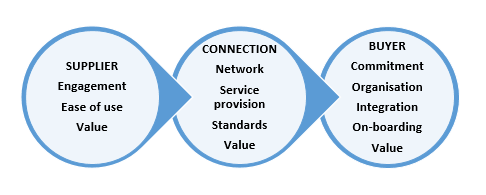 Need to consider e-invoicing from the point of view of:
The buying organization
The suppliers
The connection layer, which brings buyer and supplier together
The successful implementation of e-invoicing is not just a technology project. Success stems from the management of people, other stakeholders, business processes and automated IT systems.
Buyer's key objectives
Create commitment and focus at the top
Build a project organization to make the change
Plan and implement the appropriate systems to achieve automation and integration
Align with procurement and payment processes
Supplier engagement- the essential requirement
Engagement with suppliers of all sizes
On-boarding is key to success
Deliver ease of use for all systems and services
e-invoicing models
Connection- bringing it together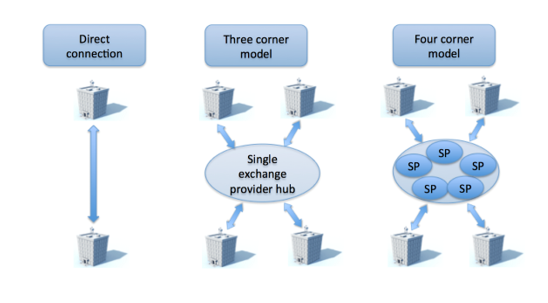 Different e-invoicing models provide alternative ways of exchanging e-invoices between buyers and suppliers:
Direct connection between trading parties can be established to exchange invoices, based on acceptable formats. While this e-invoicing model can be easy to implement, it will require new test procedures when the individual suppliers change their IT environment and can be complex and costly to manage.
Three-corner model is an exchange model where senders and receivers of invoices are connected to a single service provider platform or hub for the dispatch and receipt of messages using accepted formats. The key benefit of a 3-corner model is that the service provider can offer a tailored and granular service to both buyers and suppliers, while a drawback is that suppliers can be forced to work with many service providers simultaneously when their customers are using different providers.
Four-corner model is an exchange model where senders and receivers of invoice messages are supported by two service providers, one for the sender and another one for the receiver. The key benefit of a 4-corner model is the freedom for both the buyer and the supplier to choose their preferred service provider. As an example, the OpenPEPPOL network is based on a 4-corner model where Access Point providers ensure the validated exchange of electronic invoices between the trading parties based on agreed standards.
Examples of other e-Invoicing solutions are:.
EDI (Electronic Data Interchange) is the electronic transfer of structured data (commercial and administrative) using agreed message standards, from computer to computer and agreed by two trading parties. There are many EDI standards, some of which address the needs of specific industries or regions.
Web portal (or Supplier portal): a web-based application used for online submission of individual invoices, allowing suppliers to present invoice data to their customers for matching and approval. All transactional information is stored in the buyer's system (or with a third party service provider). Web portals are also a feature of three-corner and four-corner models.
Shared service centre is a processing centre used by a group or organizations and will often contain an electronic invoicing service platform.
P-card (purchasing card) is a form of company charge card that allows goods and services to be procured without using a traditional purchasing process. P-cards are usually issued to employees who are expected to follow their organization's policies and procedures (source: Wikipedia). The e-invoice is embedded in the process.
EIPP/EBPP: stand for Electronic Invoice Presentment and Payment, and Electronic Bill Presentment and Payment. They are solutions that combine e-invoicing services and payment services. They are facilitated directly/indirectly by payment service providers and/or e-invoicing service providers, enabling the payer to flexibly receive and manage e-invoices/bills and to pay them with existing payment instruments (i.e. credit transfers, direct debits, card payments) or e-money transactions, without the need to manually copy/paste or type in data for initiating the payment: and enabling the payee to digitize the processing of its invoices/bills and to automatically send them to the payers.
In a supplier centric model, a service provider may work with a supplier with multiple buying customers to select and implement the means of invoice creation and then the optimal channels (including any residual paper invoices) for buyers to be able to receive electronic invoices for the delivery of invoices into the buyer's system.
Additional services may be provided by your e-invoicing service provider such as supply chain finance/invoice discounting, analytics, archiving, e-procurement and payments/remittance advice processing.
EESPA Members are ready to help review these options and the overall approach to e-invoicing adoption.